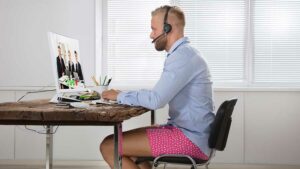 Going on a job interview is a big deal; especially now, where the competition for jobs is fierce. It can be a nerve-wracking experience, highlighting all of your insecurities. Our thoughts aren't centered on the details of when and where. Our initial worries begin with…what am I going to wear?!
We've all had the dream of showing up someplace important, wearing the wrong clothes or even no clothes at all! No need to worry; we're here to help you put your best foot forward for your next interview.
TriStarr's business is based on interviews. Whether we are screening applicants, interviewing job seekers or even getting to know new clients, TriStarr has the experience to help you successfully navigate your interviews and crush it. Like it or not, first impressions matter. How we present ourselves can make or break an interview before it has even begun.
ASK
Working with a staffing firm gives you an automatic advantage. At TriStarr, we personally visit each of our clients, so we learn about their corporate culture, which includes the dress code. So, if you are unsure about what to wear for your interview, simply ask your staffing manager! Our staffing managers are the go-between for both the company and the applicants. Their goal is always to put the best candidate with the right company. They can tell you if the office is business professional, business casual, or casual. Navigating dress code guidelines, especially with remote positions coming into play, can be incredibly confusing. Your staffing manager is always there to help.
What does Business Casual mean, anyway?!
Business casual may be one of the most confusing dress codes that have ever existed. Dress one way, and you can appear too formal. Dress another, and you can seem like you are going to the club right after your interview. For interviews, it is always advised to err on the more professional side. No matter your gender identity, if you show up in a suit, the worst anyone will think is that you are too formal or too prepared, but that is never a bad thing! Erring on the side of more business than casual is always your best bet.
…but what about video
The same etiquette applies to video interviews, not just an in-person job interview. Just because you are not meeting in person does not mean that you should dress any differently. You might be at home physically, but you want to present as if you were going into an office. COVID has caused many changes to the working landscape; however, putting your best self forward is never going to change.
Video does have another component to consider, though…your background! Employers will not want to see you in your business clothes with your headboard in the background. Find a space, well-lit by natural light, shining on your face, not on your back. When light is behind you (let's say a window), your appearance will be in shadow. Also, be sure to declutter your background. Instead of whatever happens to be on your shelf, curate your location to have a plant, a small knick-knack or two, and some art, but that's it! Your environment and everything you do and say is part of your presentation to the interviewer. Be professional in all aspects. We have actually hosted an interview with someone's birds flying in and out of frame. Unless you're Alfred Hitchcock, that is not okay!! For more video tips check out Indeed's post here.
The Standards/The Basics
No matter whether your interview is in person or via video, the basics NEVER go out of style.
Personal Hygiene: Make sure you are showered, your teeth are brushed, your hair is done, and you are wearing a professional outfit.
Check out our previous blog post about tattoos here.
Time: Arrive 10 -15 minutes early for an in-person interview. Use Google maps to know how long the drive will take and leave extra time for traffic! Be ready for your video interview early. Before any video engagement, I use the camera on my phone to make sure that I look put together and that my background is acceptable. If possible, test your video and audio prior to the interview.
Prepare: Research the company and its history. What are they highlighting on their social media? Know before you go! Be prepared to have thoughtful questions about the position and the company. The more you prepare, the better. That's the best way to ace any job interview.
Lights.Camera.Action.
Staffing companies like TriStarr use their business relationships to put you in front of the right people. However, the interview is still up to you. Following these simple tips ensure that, when you arrive, you are making the best impression possible. Make the company want to hire you, and you will be in the perfect position to land that job.
You are now ready for your close-up.